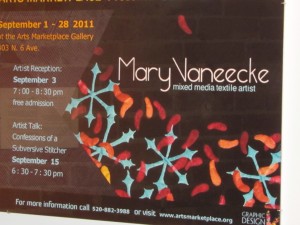 The opening reception last night was an unqualified success!  We had a great crowd of over 200 people at the event.  The gallery at Arts Marketplace has two huge brick walls which set off my black and discharged work beautifully.  The food and wine was great and it was wonderful to have the support of good friends at my first solo show….
Best of all, two pieces have found new homes!  My friend Clare bought Moon River I, which is embellished with a lovely slice of polished agate.  Fragment will be going home with a lovely couple who particularly admired the imagery and experimental technique of the piece.  I recently reworked Fragment before its debut exhibition here, and now I am glad I did.
I am over the moon with the success of the show so far.  Therese (Arts Marketplace's Director) has been working hard on the show and our efforts are really paying off.  Thanks, T and everyone else who making the show a success (JK, Bob, etc., etc.) !
My talk, Confessions of a Subversive Stitcher, will be Thursday September 15th from 6:30-7:30 pm.  The show hangs until September 27, so come and see it while you can.  Hours are Thursday, Friday, Saturday, noon-6pm at.